Jerusalem ID. Mapasonor + Domènec
Jerusalem ID
Mapasonor + Domènec
23.09.17 – 07.01.18
Bòlit Centre Art Contemporani Girona
Bòlit_LaRambla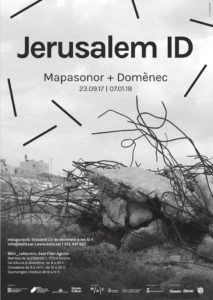 NACMM/Kibrit Encounters in Barcelona
8 / July, 10:00 > 18:00
NACMM > KIBRIT ENCOUNTERS > BCN is conceived as a moment to share reflections on topics such as artistic mobility, knowledge and collective memory production and artistic and curatorial practices for the reactivation of tangible and intangible cultural heritage in the Arab region. It invites curators and artists to present their work, research and methods, while also introducing the reflection and actions developed by NACMM – North Africa Cultural Mobility Map through its project HARAKAT as well as through the KIBRIT programme.
More info:
www.nacmm.org
www.kibrit.org
PROGRAMME:
10.00 – 10.15: Opening doors and light breakfast

10.15 – 10.30: JISER Reflexions Mediterrànies / Presentation and introduction of the day by Xavier De Luca
10.30 – 11.00: NACMM / Platform HARAKAT: Investigating mobilities of knowledge / Presentation by Pau Cata
11.00 – 11.30: KIBRIT: Reactivating memory collectively / Presentation by Francesca Masoero
11.30 – 11.45: Q&A
11.45 – 12.00: Break
12.00 – 12.30: The burden of my neighbours. Poetry and Song as Strategic Devices / Artist presentation by Christina Schultz
12.30 – 13.00: Erased Land / Artist presentation by Domènec
13.00 – 13.30: Emotional Cartographies / Artist presentation by Marta Vallejo Herrando
13.30 – 14.00: Q&A with the artists
14.00 – 15.30: Paella and informal discussion
15.30 – 17.30: Screening session:
– Le paradis ????? – Paradise, Tunis, 2017 – A video art work by Bárbara Sánchez Barroso (o.v. FR/AR, subtitles ES)
– Moi, un noir. RELOAD, 65', Tarragona, 2015 – A film by Ro Caminal (o.v. ES, subtitles ENG)
– DJART '14, 25', Algiers, 2016 – A documentary directed by Annalisa Cannito, Hichem Merouche
NACMM and the platform HARAKAT are funded by Anna Lindh Foundation, South Med CV and the Oficina de Suport a la Iniciativa Cultural (OSIC).
Kibrit is funded by SouthMed CV, a programme initiated by Interarts, BAC Art Center, Gudran for Art and Development, Khayal Arts & Education, National Center for Culture and Arts and the German Commission for UNESCO. The programme is co-funded by the European Union within the framework of the regional programme Med Culture.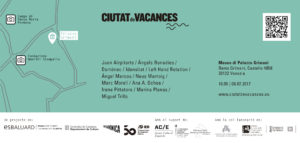 Ciutat de vacances (Holidays City)
Juan Aizpitarte, Angela Bonadies, Domènec, Idensitat, Left Hand Rotation, Angel Marcos, Neus Marroig Colom, Marc Morell, Ana A. Ochoa, Irene Pittatore, Marina Planas Antich i Arxiu Planas, Miguel Trillo.
Museo di Palazzo Grimani
Ramo Grimani, Castello 4858
30122 Venezia
10 /05 > 07 / 07 2017
"Ciutat de vacances" (Holidays City) is a project related to Tourism which, arranged in different phases and based on production and research actions, will culminate in summer 2017. Organised by Es Baluard, Arts Santa Mònica and IED (Venice) with the collaboration of Acción Cultural Española (AC/E), Agència de Turisme de les Illes Balears (ATB), Federación Empresarial Hotelera de Mallorca (FEHM) and Polo Museale del Veneto.
Domenec artist talk at Akademija umetnosti Univerza v Novi Gorici
Domenec artist talk and PAIC event
On Wednesday, 7.12. at 10:00 we invite all students (not involved in other courses at the time) to the artist talk of Domenec(domenec.net), from Barcelona (Cataluna, Spain..), an internationally renowned artist and currently resident of the PAIC project. Domenec works across media and social realms, he has exhibited and realized contextual projects all over the world, combining architecture, photography, video, conceptual art and sculpting with emerging social and political issues. Domenec will present his practice, and maybe have a chat with students about their projects…
Next to BridA , Domenec is our resident artist of the PAIC (Participatory Art for Invisible Communities) project in these two weeks. You are also cordially invited to the residency's final public event in the village of Osek on Thu, 8.12. (18-22h), the event is organized by our school and is partner of Pixxelpoint — free bus transfer from Nova Gorica (17.30 from main bus station in NG) and back is offered (apply to mestnagalerija@kulturnidom-ng.si)!
Pogovor z umetnikom Domenec-om, in PAIC dogodek
V sredo, 7.12. ob 10:00 vabimo vse študente, ki takrat nimajo predavanj/delavnice, na pogovor z barcelonskim (katalonskim, španskim..) umetnikom Domenec-om (domenec.net), mednarodno priznanim ustvarjalcem in rezidentom projekta PAIC. Domenec deluje med razli?nimi medijskimi izrazi in družbenimi sloji, razstavlja in deluje v kontekstualnih projektih širom sveta, pri obdelavi socialnih in politi?nih tematik kombinira arhitekturo, fotografijo, video, konceptualno umetnost in kiparstvo. Predstavil bo svojo prakso, in s študenti morda poklepetal tudi o njihovih projektih…
Ob skupini BridA Domenec dva tedna deluje kot reziden?ni umetnik projekta PAIC (Udeležbena umetnost za nevidne skupnosti). Prisr?no ste vabljeni tudi na zaklju?ni javni dogodek tokratne rezidence projekta v vasici Osek pri Šempasu, v ?etrtek, 8.12.(18-22h), dogodek organizira naša šola in je partner Pixxelpoint festivala — nudimo vam zastonjski avtobusni prevoz (17.30 z glavne avtobusne postaje v NG) in nazaj zagotovljen (prijave na mestnagalerija@kulturnidom-ng.si)!
—
Falsa Paleontologia, Hangar
Panoramas. LE CAP Centre d'arts plastiques de Saint-Fons, Saint-Fons, Lyon, France
Panoramas.
LE CAP Centre d'arts plastiques de Saint-Fons,
Espace Léon Blum, Rue de la Rochette, 69190 Saint-Fons, Lyon, France.
Avec :
Ján Budaj, Olivier Dollinger, Domènec, Chantal Dugave & Itziar González Virós, Naji Kamouche, Richard McGuire, Olivier Neden & Antoine Sylvain, Raphaël Zarka.
exposition
19 novembre – 14 janvier 2017
L'exposition PANORAMAS propose une lecture du lieu : de l'espace comme objet d'étude, du contexte et de son caractère discontinu, du site et des paysages qui l'ont dessiné, depuis la construction du bâtiment – initialement lycée d'enseignement professionnel Léon-Blum inauguré en 1985 – jusqu'à aujourd'hui, en passant par sa réhabilitation en centre d'art contemporain, en 2010. Ces espaces répondent aux œuvres de l'exposition, et inversement.
Domènec: Visita a la Casa Bloc
20 de marzo de 2016 a las 17h
Jardins de la Casa Bloc, 08030 Barcelona (Barcelona)
Organiza ADN Platform
Visitaremos el complejo arquitectónico de la Casa Bloc con Domènec para analizar uno de los paradigmas utópicos de la vida en común que sigue vivo en Barcelona.
La Casa Bloc (1933-1939) es la gran obra racionalista realizada por el GATCPAC (concretamente por J.. L.. Sert, J. B; Subirana y J. Torres Clavé). Cinco bloques, un solo cuerpo con planta en Z, bien comunicado y equipado, además de contar con zonas para juegos o jardines.
Los proyectos de vivienda social forman uno de los ámbitos donde se hacen más patentes las contradicciones entre el programa ideológico de la Modernidad y su realidad política. Domènec revisa críticamente ese ámbito en "Dom Kommuna: manuales de arquitectura doméstica para la vida en común"; exposición aún vigente en ADN Platform.
Nos encontraremos a las 17h en los jardines de Casa Bloc, donde se hará la visita. No hace falta reservar cita previamente.
Visita comentada a l'exposició Jerusalem ID
Dissabte 15 a les 19:00h
Visita comentada a l'exposició a càrrec de Marta Ramoneda, antropòloga, fotoperiodista i membre de Mapasonor i Domènec
Jerusalem ID. Mapasonor + Domènec
Sales d'exposicions de Can Palauet, MAC – Mataró Art Contemporani
(Carrer d'en Palau, 32 Mataró).
Jerusalem ID. Mapasonor + Domènec
Sales d'Exposicions de Can Palauet, Mataró
30/09/16 > 27/11/16.
This Friday, September 30 at 19.30, the exhibition "Jerusalem ID" will be opened in the Exhibition Halls of Can Palauet of Mataró (street d'en Palau, 32 Mataró).
The exhibition is the result of 10 years of intermittent collaboration between the group of documentary film producers Mapasonor and Domènec, from the confluence of interests and experiences around the city of Jerusalem and the context of Palestine / Israel.
The exhibition, divided into three blocks, presents a series of video works of Mapasonor, the Domènec's project "Real Estate" and the video "Jerusalem ID" (30 ', 2015), a visual essay about the text "The Monster' s Tail" of Ariella Azoulay and Adi Ophir, made in collaboration.