Icària no és una avinguda / Curatorial Clube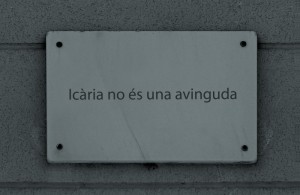 http://www.curatorialclube.com/Domenec
Localización/Location: Avenida Icaria, Barcelona
Artista/Artist: Domènec
Curador/Curator: Andrea Rodriguez Novoa
13.02.15
Icària no és una avinguda
Icaria is not an avenue
Avenida Icaria, Barcelona, 2015
Curator: Andrea Rodriguez Novoa
Curatorial Clube
13.02.15
Icaria is an island imagined by the french philosopher and utopian socialist Étiénne Cabet in his book « Voyage en Icarie »(1839), in it he describes a social model that is antagonic to capitalism. One of the catalonian followers of the icaria project was the engineer Ildefonso Cerdá, author of the Barcelonean "Ensanche" (urbanistic expansion plan) named the Avenue that still bears this name.
Ildefons Cerdà, an admirer, more or less secretly, of Cabet's utopian ideas, in memory of this community, in his Urban Plan of Barcelona – which was ultimately an egalitarian proposal – planned to call Avinguda d'Icària the road formerly called Camí del Poble Nou Cemetery; even in some drawings and plans it indicates a whole large area of Poble Nou under the name of Icària.
·············
At 12:30 pm on a Saturday we met in the crossroad between Avenida Icària and the calle Marina de Barcelona. We gathered some stones in the nearby area and at 1:00 pm we walked from the avenue to the Cementerio General de Barcelona, in Poble Nou. On the way the artist distributes three hundred xerox copies in A4 in black and white with the phrases
« Icària no es una avinguda.
https://voyageenicarie.wordpress.com ».
We went down the avenue again until the point of origin watching the xerox copies. Some of the papers will stay there until the next working day, others may stay longer, and some have already started to fly away. It's 3:15 pm.
After Landscape, Copied cities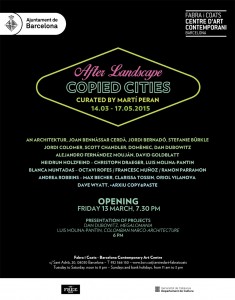 Curated by Martí Peran
An Architektur / Joan Bennàssar / Jordi Bernadó / Stefanie Bürkle / Jordi Colomer / Scott Chandler / Domènec / Dan Dubowitz / Alejandro Fernández Mouján / David Goldblatt / Heidrun Holzfeind – Christoph Draeger / Luis Molina-Pantin / Blanca Muntadas – Octavi Rofes / Francesc Muñoz / Ramon Parramon / Andrea Robbins – Max Becher / Clarissa Tossin / Oriol Vilanova / Dave Wyatt.
Fabra i Coats – Barcelona Contemporary Art Centre