Modernitat Amagada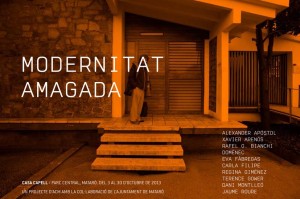 Modernitat amagada.
A project by ACM for Casa Capell.
Casa Capell, Parc Central, Passeig de l'Orfeó Mataroní 15, Mataró.
From October 3 to October 31, 2013.
A project by Domènec and Dani Montlleó.
Alexander Apóstol, Xavier Arenós, Rafel G. Bianchi, Domènec, Eva Fàbregas, Carla Filipe, Regina Giménez, Terence Gower, Dani Montlleó y Jaume Roure.