Domènec. Not Here, Not Anywhere
Catalogue of the solo exhibition at MACBA Museu d'Art Contemporani de Barcelona.
Texts: Teresa Grandas, Jeff Derksen and Martí Peran
Lenguages: Catalan and English
Published by: MACBA Museu d'Art Contemporani de Barcelona, 2018
ISBN 978-84-92505-93-7
2018
Two light box, 66 x 50 cm each.
Edition of 3
Image "Welcome to Barcelona": Pavilion of the Compañía General de Tabacos de Filipinas installed in the Parc de la Ciutadella in Barcelona, 1888.
Image "Welcome to Madrid": Filipino "village" built for the General Exhibition of the Philippine Islands in the Retiro Park in Madrid and populated by indigenous people of different ethnicities and different animal species from the archipelago, 1887.
Welcome to Barcelona (2018) and Welcome to Madrid (2018) is welcoming to two cities in Spain, after two major expositions on the Philippines presented at the end of the 19th century. In 1887 the General Exposition of the Philippine Islands, promoted by the Overseas Ministry, took place in the Retiro Park in Madrid. In the general catalog the project was introduced explaining "Spain did not yet know what in foreign lands was the subject of study and praise", despite being the metropolis after more than three hundred years of colonial rule. And he continued "The productions of that fertile soil, the works that reveal the privileged aptitude of their children for the arts all, the results of the influence of the metropolis in a colony never selfishly exploited, were known to us by references or fragmentary way." (*) Good wishes were accompanied by a desire to show the strength of the domination of the archipelago, in a voracious propaganda attempt, just a decade before finally losing the colony. A year later, at the Universal Exhibition of Barcelona in 1888, the Pavilion of the General Company of Tobacco from the Philippines was presented, a company that represented one of the largest commercial interests overseas, founded by Marquis of Comillas, slave trader, businessman and shipping magnate.
This project reflects on the structural violence implicit in the political and economic strategies around colonialism, and on the phenomenon of universal expositions as a kind of vain cartographies conceived from the metropolis to exhibit countries and dominated cultures, as cabinets of curiosities and catalog of exoticism that did nothing but increase geographical and cultural distance. Under the pretext of scientific and anthropological interest, the positivist and suprematist gaze articulated around moral, racist, and economic interests was imposed. National stereotypes, images of power, institutional criticism or the euphemisms of progress are raised here through the displacement of the subject of contemplation: they are not images of the two host cities that welcome us, but are images of the vision that those two cities offered from the Philippines in the context of two great celebratory events.
Teresa Grandas
(Fragment of the text of the catalog of the exhibition Domènec. Not Here, Not Anywhere. Ateneo Art Gallery, Manila, 2019)
(*) Catalog of the General Exhibition of the Philippine Islands, Madrid, 1887.
* The 1/3 edition belongs to the collection of the Ateneo Art Gallery, Manila.
2018
Wood, Photo series.
Y la tierra será el paraíso (And the Earth will be Paradise), title of this solo show, is a verse of the most popular L ?Internationale Spanish version, the working class anthem, adopted by most of socialist, communist and anarchist political groups worldwide. The phrasing perfectly sums up the utopian character of modernity, an era in which the society believed that all good things were at hand.
Photos: Roberto Ruiz, courtesy of ADN Gallery, Barcelona
Visita de Domènec amb els i les alumnes de l'EASD Pau Gargallo de Badalona a l'exposició "Ni aquí ni enlloc"al MACBA amb motiu del futur workshop conjunt amb el M|A|C.
'Voyage en Icarie'. Domènec.
Loop Barclona, Museu d'Història de Catalunya.
12 November — 22 October 2018
http://loop-barcelona.com/activity/voyage-en-icarie/?fbclid=IwAR1DJxTTeGbxSxD3ZW9aCoTDf0PajsWdwQouZZmYIyctlBCPnPhujHbYu98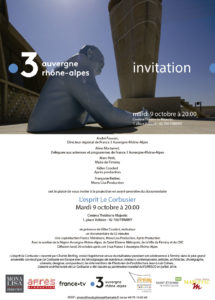 Mardi 9 octobre a 20.00 a Firminy la projection en avant-premierè du film "L'Esprit Le Corbusier".
Le film de Gilles Coudert « L'esprit Le Corbusier » raconté par Charles Berling, croise l'expérience vécue du réalisateur pendant son adolescence à Firminy dans le plus grand ensemble construit par Le Corbusier en Europe avec les témoignages de nombreux créateurs contemporains, Jean-Louis Cohen, Daniel Buren, Xavier Veilhan, Frédéric Flamand, Dominique Perrault, Alain Dumas, Christelle Poyade, Pierre Grange, Neal Beggs, Philippe Avron, Kengo Kuma, Marc Barani, Pascale Jakubowski et Domènec, entre autres…
Texto de Óscar Guayabero
Una exposición de Domènec en el MACBA invita a pensar la arquitectura y el urbanismo como actos ideológicos en sí mismos.
http://back.ctxt.es/es/20180905/Culturas/21578/Oscar-Guayabero-exposicion-Ni-aqu%C3%AD-ni-en-enlloc-Domenec-MACBA-arte-visual-arquitectura.htm#.W5N2d-NBhcA.facebook
Kochi-Muziris Biennale 2018
Possibilities for a Non-Alienated Life
December 12, 2018–March 29, 2019
Kochi, India.
Expanded artist list
Aernout Mik (Netherlands), Akram Zaatari (Lebanon), Arunkumar HG (India), Anju Dodiya (India), Annu Palakunnathu Matthew (India/US), Anoli Perera (Sri Lanka), Araya Rasdjarmrearnsook (Thailand), BV Suresh (India), Bapi Das (India), Barthélémy Toguo(Cameroon/ France), Bracha Ettinger (Israel/France), Brook Andrew (Australia), Chandan Gomes (India), Chitra Ganesh (USA/India), Chittaprosad (India), Dennis Muraguri (Kenya), Domenec (Spain), EB Itso (Denmark), Goshka Macuga (Poland/UK), Guerrilla Girls (USA), Hassan Khan (Egypt), Heri Dono (Indonesia), Ines Doujak + John Barker (Austria + UK), Jitish Kallat (India), Julie Gough (Australia), Jun Nguyen-Hatsushiba(Japan/Vietnam), Juul Kraijer (Netherlands), KP Krishnakumar (India), Kausik Mukhopadhyay (India), Madhvi Parekh (India), Marlene Dumas (Netherlands), Martha Rosler (USA), Marzia Farhana (Bangladesh), Mrinalini Mukherjee (India), Mochu (India), Monica Mayer (Mexico), Nathan Coley (UK), Nilima Sheikh (India), Otolith Group (UK), PR Satheesh (India), Pangrok Sulap (Malaysia), Prabhakar Pachpute(India), Priya Ravish Mehra (India), Probir Gupta (India), Radenko Milak (Bosnia and Herzegovina), Rana Hamadeh (Netherlands/Lebanon), Rehana Zaman (Pakistan), Rina Banerjee (US/India), Rula Halawani (Palestine), Santu Mofokeng (South Africa), Shambhavi Singh (India), Shilpa Gupta (India), Shirin Neshat (Iran/USA), Shubigi Rao(Singapore), Song Dong (China), Sonia Khurana (India), Subhash Singh Vyam + Durgabai Vyam (India), Sue Williamson (South Africa), Sunil Gupta + Charan Singh (India/UK), Sunil Janah (India), Tabita Rezaire (France/French Guyana/South Africa), Tania Bruguera (Cuba), Tania Candani (Mexico), Tejal Shah (India), Temsuyanger Longkumer (India/UK), Thomas Hirschhorn (Switzerland/France), VALIE EXPORT (Austria), Veda Thozhur Kolleri (India), Vicky Roy (India), Vinu VV (India), Vipin Dhanurdharan (India),Vivian Caccuri (Brazil), Walid Raad (Lebanon/USA), William Kentridge (South Africa), Young-Hae Chang Heavy Industries (South Korea), Zanele Muholi (South Africa)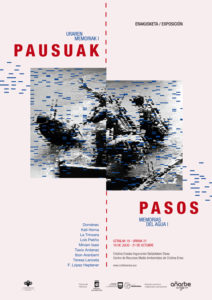 Domènec, Kati Horma, La Trinxera, Loïs Patiño, Miriam Isasi, Taxio Ardanz, Ibon Aranberri, Teresa Lanceta y F. López Heptener
Del 19 de Julio al 21 de octubre de 2018
Fundación Cristina Enea
Donostia / San Sebastian