Domènec. Real Estate
Book of the projects Real Estate and 48_Nakba, produced in Israel / Palestine in 2006-2007
Text: Jordi Font Agulló
Published by: Espai Zero1. Espai Zero1 #25. ISBN 978-84-936974-7-1
Olot, 2009
Domènec. Here/Nowhere
Here/Nowhere  includes a collection of 7 photographs and a DVD video in a box-folder.
The numeration is the following:45 completed folders, numbered and signed from 1/45 to 45/45.7 PA folders, numbered and signed from I/VII to VII/VII.
The photographs will be produced in digital engraving giclée with ultrachrome pigmented inks on HP Matte Litho-Realistic270g paper.
Size 45 x 60 cm.
Published by: Tinta Invisible.
Barcelona, 2009
Domènec. Mon Unité Mobil
Book of the project Mon Unité Mobil, École Supérieure d'Art and Centre Hospitalier de Perpignan.
Text: Isabelle Narcy
Published by: Assosiation à une heure de toute part, association de l'École Supérieure d'Art.
Perpignan, 2008
Domènec. Existenzminimum
Exhibition Catalogue
Texts: Jordi Font, Xavier Costa and Martí Peran
Lenguages: Catalan, Spanish and English
Published by: Fundació Espais d'Art Contemporani. Girona
Girona, October 2002
Domènec. Domestic
Monograph
Texts de Xavier Antich, Manuel Guerrero and Martí Peran
Lenguages: English, Spanish
112 Pages. Color
Cover: hardback
Size: 16 X 21 cm.
Published by: ACM
ISBN 84-95127-66-0
Barcelona, November 2001
Domènec. 24 hores de llum artificial
Catalogue of the individual exhibition. Sala Montcada, Foundation "La Caixa".
Texts: Martí Peran and Robert S. Lubar
Languages: Catalan, Spanish and English
38 pages. Color
Edited: Foundation "La Caixa"
ISBN 84.7664-634-8
Barcelona, November 1998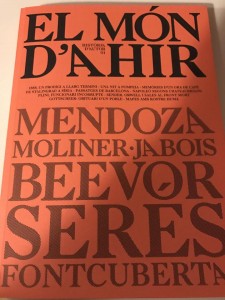 Domenec artist talk and PAIC event
On Wednesday, 7.12. at 10:00 we invite all students (not involved in other courses at the time) to the artist talk of Domenec(domenec.net), from Barcelona (Cataluna, Spain..), an internationally renowned artist and currently resident of the PAIC project. Domenec works across media and social realms, he has exhibited and realized contextual projects all over the world, combining architecture, photography, video, conceptual art and sculpting with emerging social and political issues. Domenec will present his practice, and maybe have a chat with students about their projects…
Next to BridA , Domenec is our resident artist of the PAIC (Participatory Art for Invisible Communities) project in these two weeks. You are also cordially invited to the residency's final public event in the village of Osek on Thu, 8.12. (18-22h), the event is organized by our school and is partner of Pixxelpoint — free bus transfer from Nova Gorica (17.30 from main bus station in NG) and back is offered (apply to mestnagalerija@kulturnidom-ng.si)!
Pogovor z umetnikom Domenec-om, in PAIC dogodek
V sredo, 7.12. ob 10:00 vabimo vse študente, ki takrat nimajo predavanj/delavnice, na pogovor z barcelonskim (katalonskim, španskim..) umetnikom Domenec-om (domenec.net), mednarodno priznanim ustvarjalcem in rezidentom projekta PAIC. Domenec deluje med razli?nimi medijskimi izrazi in družbenimi sloji, razstavlja in deluje v kontekstualnih projektih širom sveta, pri obdelavi socialnih in politi?nih tematik kombinira arhitekturo, fotografijo, video, konceptualno umetnost in kiparstvo. Predstavil bo svojo prakso, in s študenti morda poklepetal tudi o njihovih projektih…
Ob skupini BridA Domenec dva tedna deluje kot reziden?ni umetnik projekta PAIC (Udeležbena umetnost za nevidne skupnosti). Prisr?no ste vabljeni tudi na zaklju?ni javni dogodek tokratne rezidence projekta v vasici Osek pri Šempasu, v ?etrtek, 8.12.(18-22h), dogodek organizira naša šola in je partner Pixxelpoint festivala — nudimo vam zastonjski avtobusni prevoz (17.30 z glavne avtobusne postaje v NG) in nazaj zagotovljen (prijave na mestnagalerija@kulturnidom-ng.si)!
—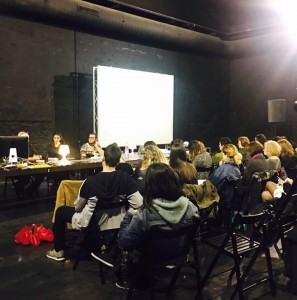 Falsa Paleontologia, Hangar. Barcelona.
23 / 11 / 2016
Cuatro artistas relatan sus meandros de investigación, todo aquello que un dossier no puede contener…
Arxiu_dossiers: Domènec, Mariona Moncunill, Fito Conesa, Rafel G. Bianchi.
Panoramas.
LE CAP Centre d'arts plastiques de Saint-Fons,
Espace Léon Blum, Rue de la Rochette, 69190 Saint-Fons, Lyon, France.
Avec :
Ján Budaj, Olivier Dollinger, Domènec, Chantal Dugave & Itziar González Virós, Naji Kamouche, Richard McGuire, Olivier Neden & Antoine Sylvain, Raphaël Zarka.
exposition
19 novembre – 14 janvier 2017
L'exposition PANORAMAS propose une lecture du lieu : de l'espace comme objet d'étude, du contexte et de son caractère discontinu, du site et des paysages qui l'ont dessiné, depuis la construction du bâtiment – initialement lycée d'enseignement professionnel Léon-Blum inauguré en 1985 – jusqu'à aujourd'hui, en passant par sa réhabilitation en centre d'art contemporain, en 2010. Ces espaces répondent aux œuvres de l'exposition, et inversement.