2017
27 postcards. Free printed material, unlimited copies. 10 X 15 cm.
Edition of a collection of postcards that offer some alternative "souvenirs" (memories) to the stereotype, optimistic and amiable imagery offered by both private and institutional tourist publicity. In a perfect symbiosis of interests, for more than a century an image of Barcelona full of clichés has been built up: the highbrow, modern, colourful, Mediterranean, welcoming city, etc. – in short, a theme park that hides a history of marginalisation and misery, class struggle, bloody popular revolts and ferocious repression.
A project produced for the exhibition "Ciutat de Vacances".
A production of Arts Santa Mònica.
Thanks to: Xose Quiroga, Pau Faus, Daniela Ortiz.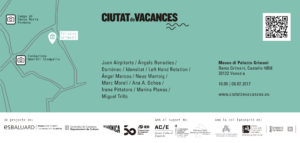 Ciutat de vacances (Holidays City)
Juan Aizpitarte, Angela Bonadies, Domènec, Idensitat, Left Hand Rotation, Angel Marcos, Neus Marroig Colom, Marc Morell, Ana A. Ochoa, Irene Pittatore, Marina Planas Antich i Arxiu Planas, Miguel Trillo.
Museo di Palazzo Grimani
Ramo Grimani, Castello 4858
30122 Venezia
10 /05 > 07 / 07 2017
"Ciutat de vacances" (Holidays City) is a project related to Tourism which, arranged in different phases and based on production and research actions, will culminate in summer 2017. Organised by Es Baluard, Arts Santa Mònica and IED (Venice) with the collaboration of Acción Cultural Española (AC/E), Agència de Turisme de les Illes Balears (ATB), Federación Empresarial Hotelera de Mallorca (FEHM) and Polo Museale del Veneto.
Domènec. Real Estate
Book of the projects Real Estate and 48_Nakba, produced in Israel / Palestine in 2006-2007
Text: Jordi Font Agulló
Published by: Espai Zero1. Espai Zero1 #25. ISBN 978-84-936974-7-1
Olot, 2009
Domènec. Here/Nowhere
Here/Nowhere  includes a collection of 7 photographs and a DVD video in a box-folder.
The numeration is the following:45 completed folders, numbered and signed from 1/45 to 45/45.7 PA folders, numbered and signed from I/VII to VII/VII.
The photographs will be produced in digital engraving giclée with ultrachrome pigmented inks on HP Matte Litho-Realistic270g paper.
Size 45 x 60 cm.
Published by: Tinta Invisible.
Barcelona, 2009
Domènec. Mon Unité Mobil
Book of the project Mon Unité Mobil, École Supérieure d'Art and Centre Hospitalier de Perpignan.
Text: Isabelle Narcy
Published by: Assosiation à une heure de toute part, association de l'École Supérieure d'Art.
Perpignan, 2008
Domènec. Existenzminimum
Exhibition Catalogue
Texts: Jordi Font, Xavier Costa and Martí Peran
Lenguages: Catalan, Spanish and English
Published by: Fundació Espais d'Art Contemporani. Girona
Girona, October 2002
Domènec. Domestic
Monograph
Texts de Xavier Antich, Manuel Guerrero and Martí Peran
Lenguages: English, Spanish
112 Pages. Color
Cover: hardback
Size: 16 X 21 cm.
Published by: ACM
ISBN 84-95127-66-0
Barcelona, November 2001
Domènec. 24 hores de llum artificial
Catalogue of the individual exhibition. Sala Montcada, Foundation "La Caixa".
Texts: Martí Peran and Robert S. Lubar
Languages: Catalan, Spanish and English
38 pages. Color
Edited: Foundation "La Caixa"
ISBN 84.7664-634-8
Barcelona, November 1998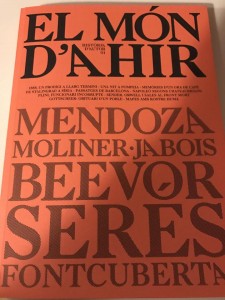 Domenec artist talk and PAIC event
On Wednesday, 7.12. at 10:00 we invite all students (not involved in other courses at the time) to the artist talk of Domenec(domenec.net), from Barcelona (Cataluna, Spain..), an internationally renowned artist and currently resident of the PAIC project. Domenec works across media and social realms, he has exhibited and realized contextual projects all over the world, combining architecture, photography, video, conceptual art and sculpting with emerging social and political issues. Domenec will present his practice, and maybe have a chat with students about their projects…
Next to BridA , Domenec is our resident artist of the PAIC (Participatory Art for Invisible Communities) project in these two weeks. You are also cordially invited to the residency's final public event in the village of Osek on Thu, 8.12. (18-22h), the event is organized by our school and is partner of Pixxelpoint — free bus transfer from Nova Gorica (17.30 from main bus station in NG) and back is offered (apply to mestnagalerija@kulturnidom-ng.si)!
Pogovor z umetnikom Domenec-om, in PAIC dogodek
V sredo, 7.12. ob 10:00 vabimo vse študente, ki takrat nimajo predavanj/delavnice, na pogovor z barcelonskim (katalonskim, španskim..) umetnikom Domenec-om (domenec.net), mednarodno priznanim ustvarjalcem in rezidentom projekta PAIC. Domenec deluje med razli?nimi medijskimi izrazi in družbenimi sloji, razstavlja in deluje v kontekstualnih projektih širom sveta, pri obdelavi socialnih in politi?nih tematik kombinira arhitekturo, fotografijo, video, konceptualno umetnost in kiparstvo. Predstavil bo svojo prakso, in s študenti morda poklepetal tudi o njihovih projektih…
Ob skupini BridA Domenec dva tedna deluje kot reziden?ni umetnik projekta PAIC (Udeležbena umetnost za nevidne skupnosti). Prisr?no ste vabljeni tudi na zaklju?ni javni dogodek tokratne rezidence projekta v vasici Osek pri Šempasu, v ?etrtek, 8.12.(18-22h), dogodek organizira naša šola in je partner Pixxelpoint festivala — nudimo vam zastonjski avtobusni prevoz (17.30 z glavne avtobusne postaje v NG) in nazaj zagotovljen (prijave na mestnagalerija@kulturnidom-ng.si)!
—