Daniel G. Andújar | Dionisio Cañas | Blanca Casas Brullet | Azahara Cerezo | Domènec | Enric Farrés Duran | Dora García | Núria Güell + Levi Orta | Rogelio López Cuenca | Mateo Maté | Marta Negre Gallén | Pere Noguera | Itziar Okariz | Tere Recarens | Francesc Ruiz Abad
A cura d'Adonay Bermúdez
Domènec. Ni aquí ni enlloc. Not Here, Not Anywhere
Monograph
Curator: Teresa Grandas
Text by Jeff Derksen, Teresa Grandas and Martí Peran
Lenguages: Catalan, English
168 Pages. Color
Size: 17 X 23 cm.
Published by: MACBA Museo de Arte Contemporaneo de Barcelona, 2018
ISBN 978-84-92505-93-7
Barcelona, 2018
Domènec and Floating Lab Collective
Washington DC, USA
2013
The prototype Pentagon Mobile (unfinished project) is a mobile and modular device prepared to be used as a platform for political action and artistic intervention, a meeting place for discussion, community building and resistance practises.
Following an analysis of the symbolic weight of different monuments of power present in the context of Washington DC and of the more or less spontaneous forms of political occupancy tested by the Occupy DC movement, the Pentagon was selected as the paradigm of the menacing geometry of power and clear symbol of "democracy" kidnapped by opaque structures. We are deconstructing the Pentagon, converting it into a flexible instrument to test new forms of real democracy and use of public sphere.
Pentagon Mobile is a collective project under construction, developed as the result of the workshop directed by Domènec and Floating Lab Collective that took place in the Corcoran College of Art + Design (Washington DC) and the School of Art George Mason University (Virginia) in January 2013, as part as the exhibition "This Is Not a Museum: Portable and Lurking".
Marcelo Expósito / Domènec / Mireia Sallarés / Oscar Holloway / Laura Llevadot /  Angels Ribé / Mariona Moncunill / Xavier Ristòl
18-03-2020 > 20-05-2020
Escola Illa, Sabadell

Comisarios: Rosario Sarmiento, Alberto Carton.
Artistas: Lara Almarcegui, Carma Casulá, Domènec, Santiago Giralda, Carlos Irijalba, Lucía Loren, Miguel Mariño, Asier Mendizabal, Nico Munuera, Lois Patiño, Jorge Perianes, Juan Ugalde, Oriol Vilanova, Enrique Yáñez.
Sala de Exposiciones Municipal PALEXCO.
Avda. Asociación da Prensa, s/n
A Coruña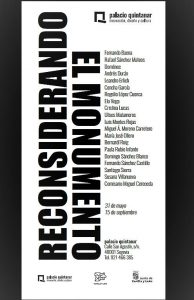 Fernando Baena and Rafael Sánchez-Mateos · Domènec · Andrés Durán · Leandro Erlich · Concha García · Rogelio López Cuenca and Elo Vega · Cristina Lucas · Ulises Matamoros · Luis Montes Rojas · Miguel Ángel Moreno Carretero · María José Ollero · Bernardí Roig · Paula Rubio Infante · Domingo Sánchez Blanco · Fernando Sánchez Castillo · Santiago Sierra · Susana Villanueva.
Curator: Miguel Cereceda
May 31  to September 15 2019
Palacio de Quintanar de Segovia
c/ San Agustín, s/n. 40001 – Segovia.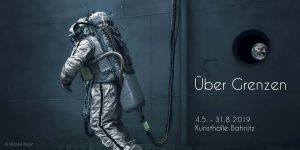 Marina Abramovic / Ulay · Christa Biederbick · Karlheinz Biederbick · Ulrich Bülhoff · Domènec· Peter Fend · Jobst Günther · Christian Hasucha · Janet Hesse · Lee Jeffriess · Sabrina Jung · David Krippendorff · Michael Najjar · Norbert Nowotsch · ORLAN · Lisa Schmitz · Peter Weibel
May 4 – August 31, 2019
Kunsthalle Bahnitz
Dorfstr. 1 / 14715 Milower Land (Bahnitz) Germany
An exhibition project of Kunstverein Bahnitz e.V.
curated by Bodo Rau and Lisa Schmitz
1
"No future for you" the Sex Pistols shouted in the audience's face in their sublime 1977 song God Save the Queen. "Avui sóc ric. No tinc memòria," [Today I'm rich. I have no memory] sang Jaume Sisa in 1979. We were looking over the abyss at the end of history, the 1980s, the fall of the Berlin wall, cheap cocaine and the triumph of global capitalism: the present continuous… The Sex Pistols were singing about the end of an era and the encroaching darkness of the Thatcher years; Sisa, ironically, was celebrating the fact that "popular capitalism" had made us all rich—we all had a mortgage and no need for any memory. For decades, we've lived, worked and thought as if it were playtime at school… present continuous… finally we could have fun… history was over! We no longer needed any commitment to anything… Thousands of artists filled the world with brilliant, immaculate, unembellished works devoid of any drama, fun, autistic, egocentric pieces, polka dot paintings, formaldehyde cows, giant puppies made out of flowers, extortionate bibelots to decorate the luxury nothingness of fictional capitalism. Reality confused with a photo call. While the drugged population was entranced by artists playing the fool, the owners of everything stole our past and, with it, the possibility of thinking of a different future. In the words of Martí Peran, "Analysis of the contemporary experience reveals the difficulty of thinking about the future. Modernity was characterised by its prolific construction of promises; today all we have is a present that always narrows our expectations of tomorrow. This sign of the times is due to a complex mesh of factors: the failure of mass utopias, consumer hedonism, the extension of the culture of fear, widespread precarity that makes it impossible to think of life as a project… Alongside these difficulties, all the spectacle of late capitalism can only us for the future is a collection of apocalyptic cinematic visions." Dystopian visions with a clear lesson: the status quo is unalterable; any attempt to alter reality and subvert the balance of forces is doomed to fail.
2
Sensory addiction to a compensatory reality becomes a means of social control, and a large part of "art" enters the realm of the phantasmagorical as entertainment, as part of the world of merchandise. Marx popularised the term phantasmagoria to describe the world of merchandise, which by its mere presence hides all traces of the work that went into producing it. It hides the process of production and encourages spectators to think of it in terms of subjective fantasies and dreams.
3
History cannot be thought of merely diachronically. There are leaps, fissures, gaps, contradictions, short cuts and dead ends. Past, present and future occur both synchronically and diachronically. We need to explore the ways in which contemporary art can articulate the past—short stories that focus on recent and not-so-recent events that have remained hidden under the dense shadow of hegemonic narratives, even though in some cases they are vital for understanding our real-life present and imagining a "different future". By capturing these spectres of the past, by helping these short stories and hidden accounts take shape, they become visible signs of the way reality has been created in our present. By way of example, I'll talk about a project we did in Helsinki. It arose from reading about the work of Alvar Aalto—the best-known Finnish architect and one of the fathers of modern architecture—and focused on one of his buildings, the Kulttuuritalo, a cultural centre and concert venue in Kallio, an old working-class neighbourhood now becoming gentrified. After reading different sources that talked about how important the building was, its fascinating technical and formal innovations, its key role in the architect's career and the evolution of postwar architecture, the unique design of the bricks and its acoustic properties, in one text—amongst a huge pile of information—I spotted the sentence "Built mainly by volunteers." What did "built mainly by volunteers" mean? Why? Under what circumstances? Although I carried out research at several archives, such as the city archive and the museum of architecture archive, I couldn't find any clear answers: only one tiny archive in a flat in the neighbourhood revealed all the details of this amazing story of collective creation: between 1954 and 1958 over 5,000 volunteers— workers, union members, members of leftwing organisations, youth associations and the Communist party—gave over 150,000 hours of their free time after work and at weekends to build this magnificent building that was at the centre of the neighbourhood's social, cultural and political life for workers in Helsinki. However, this major achievement for the Finnish working class had later been appropriated by the hegemonic historiography and been forgotten by most of the city's inhabitants. When we finally managed to interview some pensioners who had taken part in this collective process in their youth, they were puzzled as to why it had taken so long for someone to ask them about what was perhaps the most important episode in their life. The project aimed to rescue the voices of workers who took part in the collective construction of this symbol of modernity and icon of the Finnish workers' movement. At the same time, the project also breached the gap between the age when the Kulttuuritalo was built and the present day, when the building has become an architectural monument stripped of all its ideological content. As well as endeavouring to relive the past, it also aims to reflect on the way we experience historical time.
4
A few days ago, a friend of mine asked me about a large number of contemporary artists who have suddenly discovered modern architecture—an interest he found somewhat superficial and saw as a nostalgic longing denuded of all its critical power. "As a fetish?" I ventured. "And maybe because they use obsolete devices to shape projects: slides, vinyl films, opaque projectors… a fascination with everything vintage." When there's nothing to say, nothing to question, we can always fall back on the document, the archive, the historical anecdote, the display. This nostalgic backwards gaze towards a past that was full of future perpetuates the helplessness of the present. If we fail to understand that rereading the past is only worthwhile if it is a dialectic weapon loaded with ammunition in the fight to transform the present, this gaze simply becomes the accomplice of hegemonic accounts and perpetuates the discourse that has always sought to defuse the critical, transformative power of these moments we are now looking at afresh.
Text from "Avantsala + Fuga. Art Jove 2013" catalogue, Barcelona 2013
Max Andrews reviews Domènec exhibition 'Y la tierra será el paraíso' in frieze, a show looking to the fraught legacies of Spain's mass communal housing.
Show runs at Adn Galeria, Barcelona, until 16 March 2019.
https://frieze.com/article/run-spains-tense-national-elections-excavating-state-designed-oppression-inherited-franco?fbclid=IwAR3l1rUrAN1SXme1vJBki5BmaQ1X2HrpiYj_Sq5fGdqnwRizesE3J59UsbQ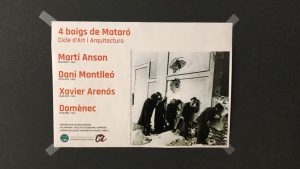 Campus Bellissens,Universitat Rovira i Virgili, Av. de la Universitat, 1, 43204 Reus. Amb Martí Anson, Dani Montlleó, Xavier Arenós i Domènec