Curator: Teresa Grandas
April – September 2018
MACBA 
Plaça dels Àngels, 1
08001 Barcelona
http://www.macba.cat/en/exhibition-domenec/1/exhibitions/expo
This solo exhibition of Domènec (Mataró, 1962) offers a retrospective of his work from the late 1990s to the present, including some new projects. Using certain emblematic buildings or monuments of modernity as referents, Domènec analyses the proposals of the modern movement and its legacy within contemporary practice. Supporting his research are projects in situ, installations, maquettes, photographs, workshops, seminars and videos. Based on various local contexts, his work establishes a dialogue with other international themes to highlight the impact on the present of the utopian ideas that resulted from the Industrial Revolution and as a stand against capitalism.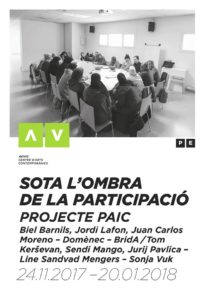 PAIC Project
ACVIC Centre d'Arts Contemporànires, Vic
24.11.2017 – 20.01.2018
Biel Barnils, Jordi Lafon, Juan Carlos Moreno / Domènec / BridA / Line Sandvad / Sonja Vuk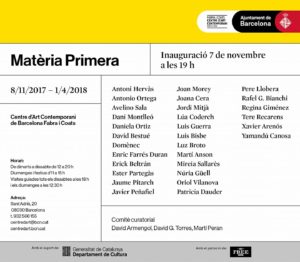 Fabra i Coats. Centre d'Art Contemporani de Barcelona
08 / 11 / 2017 – 01 / 04 / 2018
Curatorial committee: David Armengol, David G. Torres i Martí Peran
Artists: Antoni Hervàs, Antonio Ortega, Avelino Sala, Dani Montlleó, Daniela Ortiz, David Bestué, Domènec, Enric Farrés Duran, Erick Beltrán, Ester Partegàs, Jaume Pitarch, Javier Peñafiel, Joan Morey, Joana Cera, Jordi Mitjà, Lúa Coderch, Luis Guerra, Luis Bisbe, Luz Broto, Martí Anson, Mireia Sallarès, Núria Güell, Oriol Vilanova, Patricia Dauder, Pere Llobera, Rafel G. Bianchi, Regina Giménez, Tere Recarens, Xavier Arenós and Yamandú Canosa.
LE CAP – Centre d'arts plastiques de Saint-Fons (Lyon), 2017
En Résonance avec la Biennale de Lyon 2017
Installation. 4 models, screen, wood / Video, 3'24" / Wall paper
with the support of Institut Ramon Llull
Jerusalem ID
Mapasonor + Domènec
23.09.17 – 07.01.18
Bòlit Centre Art Contemporani Girona
Bòlit_LaRambla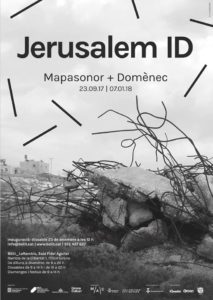 8 / July, 10:00 > 18:00
NACMM > KIBRIT ENCOUNTERS > BCN is conceived as a moment to share reflections on topics such as artistic mobility, knowledge and collective memory production and artistic and curatorial practices for the reactivation of tangible and intangible cultural heritage in the Arab region. It invites curators and artists to present their work, research and methods, while also introducing the reflection and actions developed by NACMM – North Africa Cultural Mobility Map through its project HARAKAT as well as through the KIBRIT programme.
More info:
www.nacmm.org
www.kibrit.org
PROGRAMME:
10.00 – 10.15: Opening doors and light breakfast

10.15 – 10.30: JISER Reflexions Mediterrànies / Presentation and introduction of the day by Xavier De Luca
10.30 – 11.00: NACMM / Platform HARAKAT: Investigating mobilities of knowledge / Presentation by Pau Cata
11.00 – 11.30: KIBRIT: Reactivating memory collectively / Presentation by Francesca Masoero
11.30 – 11.45: Q&A
11.45 – 12.00: Break
12.00 – 12.30: The burden of my neighbours. Poetry and Song as Strategic Devices / Artist presentation by Christina Schultz
12.30 – 13.00: Erased Land / Artist presentation by Domènec
13.00 – 13.30: Emotional Cartographies / Artist presentation by Marta Vallejo Herrando
13.30 – 14.00: Q&A with the artists
14.00 – 15.30: Paella and informal discussion
15.30 – 17.30: Screening session:
– Le paradis ????? – Paradise, Tunis, 2017 – A video art work by Bárbara Sánchez Barroso (o.v. FR/AR, subtitles ES)
– Moi, un noir. RELOAD, 65', Tarragona, 2015 – A film by Ro Caminal (o.v. ES, subtitles ENG)
– DJART '14, 25', Algiers, 2016 – A documentary directed by Annalisa Cannito, Hichem Merouche
NACMM and the platform HARAKAT are funded by Anna Lindh Foundation, South Med CV and the Oficina de Suport a la Iniciativa Cultural (OSIC).
Kibrit is funded by SouthMed CV, a programme initiated by Interarts, BAC Art Center, Gudran for Art and Development, Khayal Arts & Education, National Center for Culture and Arts and the German Commission for UNESCO. The programme is co-funded by the European Union within the framework of the regional programme Med Culture.
2017
27 postcards. Free printed material, unlimited copies. 10 X 15 cm.
Edition of a collection of postcards that offer some alternative "souvenirs" (memories) to the stereotype, optimistic and amiable imagery offered by both private and institutional tourist publicity. In a perfect symbiosis of interests, for more than a century an image of Barcelona full of clichés has been built up: the highbrow, modern, colourful, Mediterranean, welcoming city, etc. – in short, a theme park that hides a history of marginalisation and misery, class struggle, bloody popular revolts and ferocious repression.
A project produced for the exhibition "Ciutat de Vacances".
A production of Arts Santa Mònica.
Thanks to: Xose Quiroga, Pau Faus, Daniela Ortiz.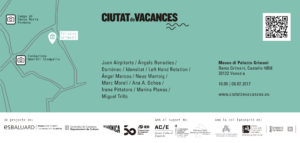 Ciutat de vacances (Holidays City)
Juan Aizpitarte, Angela Bonadies, Domènec, Idensitat, Left Hand Rotation, Angel Marcos, Neus Marroig Colom, Marc Morell, Ana A. Ochoa, Irene Pittatore, Marina Planas Antich i Arxiu Planas, Miguel Trillo.
Museo di Palazzo Grimani
Ramo Grimani, Castello 4858
30122 Venezia
10 /05 > 07 / 07 2017
"Ciutat de vacances" (Holidays City) is a project related to Tourism which, arranged in different phases and based on production and research actions, will culminate in summer 2017. Organised by Es Baluard, Arts Santa Mònica and IED (Venice) with the collaboration of Acción Cultural Española (AC/E), Agència de Turisme de les Illes Balears (ATB), Federación Empresarial Hotelera de Mallorca (FEHM) and Polo Museale del Veneto.
Domènec. Real Estate
Book of the projects Real Estate and 48_Nakba, produced in Israel / Palestine in 2006-2007
Text: Jordi Font Agulló
Published by: Espai Zero1. Espai Zero1 #25. ISBN 978-84-936974-7-1
Olot, 2009
Domènec. Here/Nowhere
Here/Nowhere  includes a collection of 7 photographs and a DVD video in a box-folder.
The numeration is the following:45 completed folders, numbered and signed from 1/45 to 45/45.7 PA folders, numbered and signed from I/VII to VII/VII.
The photographs will be produced in digital engraving giclée with ultrachrome pigmented inks on HP Matte Litho-Realistic270g paper.
Size 45 x 60 cm.
Published by: Tinta Invisible.
Barcelona, 2009