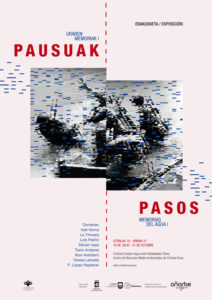 Domènec, Kati Horma, La Trinxera, Loïs Patiño, Miriam Isasi, Taxio Ardanz, Ibon Aranberri, Teresa Lanceta y F. López Heptener
Del 19 de Julio al 21 de octubre de 2018
Fundación Cristina Enea
Donostia / San Sebastian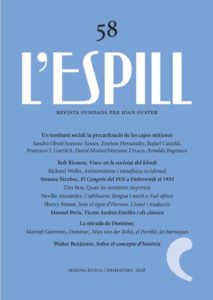 La mirada de Domènec
Domènec, L'estadi, el pavelló i el Palau
Manuel Guerrero, Domènec, Mies van der Rohe, el Pavelló, les barraques
https://www.uv.es/lespill/actual.html
ADN Platform
Víctor Hugo 1 (Nau 6)
08173, Sant Cugat
T. (+34) 93 451 0064
F. (+34) 93 675 2423
http://www.adngaleria.com/ca/projectes/-bkf-cinegetica-i-modernitat/
2018
ADN Platform
For this exhibition in ADN Platform, Domènec presents another product of the so called Modern project. It is the iconic BKF chair, an aesthetic and functional proposal also known as "Butterfly chair" because of its morphological resemblance to the insect. The prototype consists of two symmetrical tubular pieces welded and covered by a piece of leather. A simple and soft design that also evokes the natural in its curved and sinuous forms. A morphological object that acquires an almost sculptural, even architectural, value while fulfilling its main function, that of the seat.
Created between 1938 and 1939, the BKF was designed by exiled Catalan architect Antoni Bonet Castellana and the Argentines Juan Kurchan and Jorge Ferrari-Hardoy. They met each other while working at Le Corbusier's office in 1936. Two years later the three architects created the Austral group (1938 – 1941).
The BKF become one of the most famous designs in history. In 1944, Edgar kaufmann, MoMA's director of Industrial Design collection at that time, acquired one BKF for the museum's collections and two more for the iconic "Waterfall House" (Frank Lloyd Wright), example par excellence of this rationalist Modern architecture. Austral group's proposal turned out to be another perfect example of avant-garde design and would soon become part of its history.
As usual in Domènec's processes, with this installation the artist examines the iconic design from a new point of view. The two BKF chairs appear without their coating, the piece of leather that covers them and making us possible to sit on them. Its original function is thus nullified and now the structures are ready for being used in different ways. One of these alternatives of use could be the one we see in the dictator Francisco Franco that appears near the chairs. The dictator uses the naked frames of the chairs to proudly display his hunting trophies: two deer heads whose baroque antlers oppose the soft and synthetic lines of the BKFs' skeletons. Ortega y Gasset said once that hunting, (also called "cynegetics") consist of everything that is done before and after the dead of the animal, being the death a key part in the process. We can find here a certain resemblance with the evolution of modernity, an idealistic project that suffered from constantly harassment until its very crisis. The entire installation causes in its viewers a strange confusion resulting from the clash between and object based on a very specific social ideals (progress, improvement of quality life and the development of an equitable community) versus some conservative, even retrograde standars.
An intervention at the Mies van der Rhoe and Lilly Reich Pavilion, Barcelona 2018
An production of Mies van der Rohe Foundation and MACBA
Barcelona became Spain's economic driver in the nineteenth century with the industrial revolution. In a perfect symbiosis of public and private interests, the authorities and the industrialists designed a series of events to internationally disseminate the image of Barcelona as a business city: the Universal Exhibition of 1888 and the 1929 International Exposition that was conceived as a great propaganda device of the Spanish monarchy and to project the image of Catalan industry abroad.
The 1929 Exposition venue, built according to Puig i Cadafalch's project, was located in Montjuïc and represented a radical transformation of an important part of the mountain.
The industrial and commercial expansion, the transformation and growth of the city and the construction of the buildings of the Exposition needed enormous cheap labour, and the local proletariat was not sufficient to meet demand. This caused a great migration process. Due to the lack of public housing and to speculation policies, many of the families of immigrants who, fleeing misery, came from all over Spain to Barcelona from the mid-nineteenth century and throughout the twentieth century, were forced to live in very precarious conditions. They lived in self-constructed shacks on the edges of the city forming real neighbourhoods such as the Somorrostro or the Camp de la Bota. In the late fifties, the shanty towns reached their peak with a population of between 70,000 and 100,000 people.
Shacks were built all over Montjuïc, from Poble Sec to the Ponent quarries, from the 1929 International Exposition venue to the castle.
After Spain's Civil War, Franco's dictatorship decided to use some of the 1929 International Exposition venues and facilities to place immigrants.  In the beginning of the fifties, The Palace of the Missions became a centre of "classification of indigents" used to arrest and classify immigrants from all over Spain to be returned to their place of origin. Without having committed any crime and after spending an indefinite period of imprisonment, about 15,000 people were deported in about 230 chartered trains. The City Council contributed to aggravating the situation when it decided to use the Olympic Stadium to "temporarily" house the neighbours from the Somorrostro. They remained there until 1968, abandoned by the administration, along with families from other facilities such as the Pavilion of Belgium.
Thanks to: Ivan Blasi, Delícia Burset, Xavi Camino, Helena Castellà, Anna Cerdà, Teresa Grandas, Jordi Mitjà, Dani Montlleó, Anna Ramos.
Public Hearing, 2018
Lacquered steel and dyed, varnished okoume plywood
240 × 277 × 164.8 cm
Work produced in collaboration with MACBA Museu d'Art Contemporani de Barcelona
In May 1963, the book Eichmann in Jerusalem: A Report on the Banality of Evil was published, drawing together Hannah Arendt's reports on the 1961 trial in Jerusalem of Adolf Eichmann, a lieutenant colonel in the SS and one of the greatest criminals in history. In the Spanish edition, the first chapter of the book is entitled 'Audiencia pública' (Public Hearing).
The Audiència pública project (2018) offers a lifesize recreation of the cabin, which was specially designed to ensure Eichmann's safety during the trial, here converted into a 'dumb' sculpture, aseptic and divested of all traces of the drama that was played out but at the same time 'noisy', as it echoes the voices of the victims of history. If, as Zygmunt Bauman states, the Holocaust, far from being a deviation in the passage of progress, appears as the technological and organisational result of industrial and bureaucratic society, and is a phenomenon tightly linked to the very characteristics of modernity, where do we place ourselves in the face of this small piece of architecture that challenges us? What role do we take in this public hearing?
To the Dead Heroes of the Revolution, 2018
Sandblasted stainless steel
156 x 156 x 89 cm
Work produced in collaboration with MACBA
The monument to Rosa Luxemburg and Karl Liebknecht, very forceful and formally and politically effective, became a meeting point for the German radical left. To reinforce its political function, beyond the metaphor of the volumes of used factory adobe bricks, Mies van der Rohe also designed a series of elements of normal communist political symbology: a large steel five-pointed star with a hammer and sickle in its centre and a pole on which to hoist the Red Flag on major occasions.
The star measured two metres and eighty centimetres across and a small manufacturer could not be commissioned to make it and thus Mies van der Rohe commissioned the Krupp steelworks. The Krupps, a major German industrial dynasty later known for their collaboration with Nazism and the use of slave labour during the Second World War, refused to supply a communist symbol. Faced with this refusal, the architect ordered five pieces of diamond-shaped steel, five pieces divested of any political significance, which Krupp agreed to supply. Once they had been assembled, they became the five-pointed star which presided over the monument until it was taken down by the Nazis and exhibited in a museum of insignia and flags which had been confiscated from enemies.
The Den toten Helden der Revolution piece (To the Dead Heroes of the Revolution, 2018) recreates this prior moment of impasse, in which five silent geometric shapes, at rest, can unleash their capacity for political activism.
Photos 5 and 6: Roberto Ruiz / Photo 7: Jordi Folgado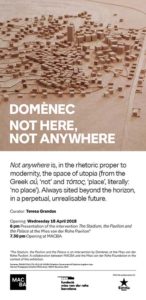 MACBA
19 Apr. to 11 Sep. 2018
Being from a place that no longer exists and even being born and dying in a place that no longer exists. Being from a place which, according to official maps of the State of Israel, never existed. They keep the keys to the houses, but they are keys that no longer open any door.
Hundreds of thousands of Palestinians are trapped in limbo1 This limbo has different names such as Arrub, Kalandia, Camp No. 1, Balata, Shu'fat, or Far'a on the West Bank; Jabalia, Rafah, or Beach in the Gaza Strip or the infamous Shatila in Lebanon… and one sole status: Refugee camps under the administration of the UNRWA (United Nations Relief Work Agency)2. This limbo is shaped like a labyrinth in which the refugees are born, live and die trapped in this labyrinth. They have been there for about 60 years and are unable to find the way out.
Living in a refugee camp is the closest thing to living in a permanent No Place, a space suspended in a suspended time, designed and constructed to give temporary shelter to the displaced, with a defined and non-expandable perimeter, and in the early days they were tent camps designed for a short time, for a few months, maybe a few years.
Palestinian refugees lived ten or twelve years in these tents waiting to return to their homes, but this return never arrived, and gradually these tents were replaced by small self-built homes, no one designed a development plan, no one drew any squares or streets, and there are only narrow, dark passageways between them, narrow defiles where one must walk in a single line; and the years kept passing, twenty, thirty, forty… and the population increased but the perimeter of the camp did not, and the houses had to expand by adding more rooms, and these began to grow in height, with new buildings being added on roofs and soon others appeared above them.
Human beings who have become the hostages of history live, are born and die in a transit area. Like a science fiction film they live in a parallel reality. When a child is born in Shu'fat refugee camp (on the outskirts of East Jerusalem), a strange phenomenon occurs: they are not really born there, but are born in Beit Natif, or in Lifta, although for the last 60 years Lifta has simply been a pile of rubble on the outskirts of West Jerusalem. When you ask a girl in Balata camp where she is from, she will tell you without a second's hesitation that she is from Ras Al al-Ayin or Al-Shaykh Muwannis, although if you search for these villages on a map, you'll never find them.
A woman who has been a refugee in Balata camp for over fifty years, describes in great detail the family home in Jammasin Al Garbiye while showing us dozens of documents proving ownership; she says: "in front of the house was a big tree… and it's still there!". There, -now on the outskirts of Tel Aviv, there is nothing, no house or tree, only puddles and cranes and a few metres away two skyscrapers under construction designed by Philippe Stark.
Drinking coffee with a dead man
In the Palestinian refugee camp of Far'a on the West Bank, we were having coffee with a dead man "I'm dead, I've been dead for 60 years. If someone takes away your land, they take away your dignity, and a person without dignity is a dead person" he told us at the end of the conversation. We were there to videotape their memories3; for a couple of hours he and his wife had told us where and how they lived before 1948, before disaster befell, the Nakba4. They remembered everything: the house, the river, the cultivated fields, tomatoes, cucumbers, eggplants… and how they were forced to leave, and when they soon reached Far'a where they lived ten years in a tent, then in a shack -now it looks something like a home- and 60 years have passed, 60 years waiting to return to cultivated fields near the river where tomatoes, cucumbers, and eggplants grew… "the only option is to return!" he insisted again and again. A few days later we went there: there were no cultivated fields or tomatoes or eggplants; the river was there however flanked by a pleasant urban park, the Yarkon Park, which crosses from east to west, north of Tel Aviv, it was Saturday and dozens of carefree citizens were practising sports, strolling or playing with their children without realizing the presence of their neighbours: the dead man who was drinking coffee and his wife who, despite not moving from the Far'a refugee camp in 60 years, have never stopped growing tomatoes and eggplants in this place.
Jerusalem, 2007
Annotations:
(1) Limbo: according to Catholic theology, limbo is a state, or a place on the edge of hell, where those who committed no sin themselves would bear the guilt of original sin.
(2) According to the latest census there are 4,448,430 Palestinian refugees scattered among the Occupied Palestinian Territories, Jordan, Syria and Lebanon. Approximately one-third (1,300,000) live in 58 refugee camps managed by UNRWA.
(3) 48_nakba: Video, 22'. Israel / Palestine 2007. Images, script and direction: Domènec and Sàgar Malé. Participants: Refugees in Ramallah and the refugee camps of Al Fara'a and Balata. A documentary film by Mapasonor
(4) The Palestinians use the word Nakba, which in Arabic literally means "catastrophe" to describe the war following the proclamation of the State of Israel in 1948 and which resulted in the pillaging and forced exile of some 750,000 Palestinians, hundreds of villages being demolished and their names eliminated from maps. Since 1998 Palestinians have "celebrated" the day of the Nakba on May 15, the same day the Israelis celebrate the day of the declaration of independence of the State of Israel.