'Voyage en Icarie'. Domènec.
Loop Barclona, Museu d'Història de Catalunya.
12 November — 22 October 2018
http://loop-barcelona.com/activity/voyage-en-icarie/?fbclid=IwAR1DJxTTeGbxSxD3ZW9aCoTDf0PajsWdwQouZZmYIyctlBCPnPhujHbYu98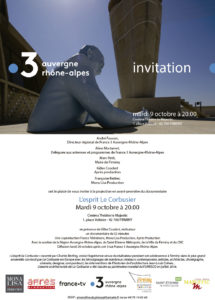 Mardi 9 octobre a 20.00 a Firminy la projection en avant-premierè du film "L'Esprit Le Corbusier".
Le film de Gilles Coudert « L'esprit Le Corbusier » raconté par Charles Berling, croise l'expérience vécue du réalisateur pendant son adolescence à Firminy dans le plus grand ensemble construit par Le Corbusier en Europe avec les témoignages de nombreux créateurs contemporains, Jean-Louis Cohen, Daniel Buren, Xavier Veilhan, Frédéric Flamand, Dominique Perrault, Alain Dumas, Christelle Poyade, Pierre Grange, Neal Beggs, Philippe Avron, Kengo Kuma, Marc Barani, Pascale Jakubowski et Domènec, entre autres…
Texto de Óscar Guayabero
Una exposición de Domènec en el MACBA invita a pensar la arquitectura y el urbanismo como actos ideológicos en sí mismos.
http://back.ctxt.es/es/20180905/Culturas/21578/Oscar-Guayabero-exposicion-Ni-aqu%C3%AD-ni-en-enlloc-Domenec-MACBA-arte-visual-arquitectura.htm#.W5N2d-NBhcA.facebook
Kochi-Muziris Biennale 2018
Possibilities for a Non-Alienated Life
December 12, 2018–March 29, 2019
Kochi, India.
Expanded artist list
Aernout Mik (Netherlands), Akram Zaatari (Lebanon), Arunkumar HG (India), Anju Dodiya (India), Annu Palakunnathu Matthew (India/US), Anoli Perera (Sri Lanka), Araya Rasdjarmrearnsook (Thailand), BV Suresh (India), Bapi Das (India), Barthélémy Toguo(Cameroon/ France), Bracha Ettinger (Israel/France), Brook Andrew (Australia), Chandan Gomes (India), Chitra Ganesh (USA/India), Chittaprosad (India), Dennis Muraguri (Kenya), Domenec (Spain), EB Itso (Denmark), Goshka Macuga (Poland/UK), Guerrilla Girls (USA), Hassan Khan (Egypt), Heri Dono (Indonesia), Ines Doujak + John Barker (Austria + UK), Jitish Kallat (India), Julie Gough (Australia), Jun Nguyen-Hatsushiba(Japan/Vietnam), Juul Kraijer (Netherlands), KP Krishnakumar (India), Kausik Mukhopadhyay (India), Madhvi Parekh (India), Marlene Dumas (Netherlands), Martha Rosler (USA), Marzia Farhana (Bangladesh), Mrinalini Mukherjee (India), Mochu (India), Monica Mayer (Mexico), Nathan Coley (UK), Nilima Sheikh (India), Otolith Group (UK), PR Satheesh (India), Pangrok Sulap (Malaysia), Prabhakar Pachpute(India), Priya Ravish Mehra (India), Probir Gupta (India), Radenko Milak (Bosnia and Herzegovina), Rana Hamadeh (Netherlands/Lebanon), Rehana Zaman (Pakistan), Rina Banerjee (US/India), Rula Halawani (Palestine), Santu Mofokeng (South Africa), Shambhavi Singh (India), Shilpa Gupta (India), Shirin Neshat (Iran/USA), Shubigi Rao(Singapore), Song Dong (China), Sonia Khurana (India), Subhash Singh Vyam + Durgabai Vyam (India), Sue Williamson (South Africa), Sunil Gupta + Charan Singh (India/UK), Sunil Janah (India), Tabita Rezaire (France/French Guyana/South Africa), Tania Bruguera (Cuba), Tania Candani (Mexico), Tejal Shah (India), Temsuyanger Longkumer (India/UK), Thomas Hirschhorn (Switzerland/France), VALIE EXPORT (Austria), Veda Thozhur Kolleri (India), Vicky Roy (India), Vinu VV (India), Vipin Dhanurdharan (India),Vivian Caccuri (Brazil), Walid Raad (Lebanon/USA), William Kentridge (South Africa), Young-Hae Chang Heavy Industries (South Korea), Zanele Muholi (South Africa)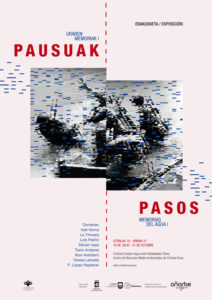 Domènec, Kati Horma, La Trinxera, Loïs Patiño, Miriam Isasi, Taxio Ardanz, Ibon Aranberri, Teresa Lanceta y F. López Heptener
Del 19 de Julio al 21 de octubre de 2018
Fundación Cristina Enea
Donostia / San Sebastian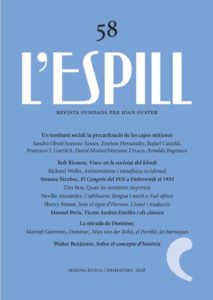 La mirada de Domènec
Domènec, L'estadi, el pavelló i el Palau
Manuel Guerrero, Domènec, Mies van der Rohe, el Pavelló, les barraques
https://www.uv.es/lespill/actual.html
ADN Platform
Víctor Hugo 1 (Nau 6)
08173, Sant Cugat
T. (+34) 93 451 0064
F. (+34) 93 675 2423
http://www.adngaleria.com/ca/projectes/-bkf-cinegetica-i-modernitat/
2018
ADN Platform
For this exhibition in ADN Platform, Domènec presents another product of the so called Modern project. It is the iconic BKF chair, an aesthetic and functional proposal also known as "Butterfly chair" because of its morphological resemblance to the insect. The prototype consists of two symmetrical tubular pieces welded and covered by a piece of leather. A simple and soft design that also evokes the natural in its curved and sinuous forms. A morphological object that acquires an almost sculptural, even architectural, value while fulfilling its main function, that of the seat.
Created between 1938 and 1939, the BKF was designed by exiled Catalan architect Antoni Bonet Castellana and the Argentines Juan Kurchan and Jorge Ferrari-Hardoy. They met each other while working at Le Corbusier's office in 1936. Two years later the three architects created the Austral group (1938 – 1941).
The BKF become one of the most famous designs in history. In 1944, Edgar kaufmann, MoMA's director of Industrial Design collection at that time, acquired one BKF for the museum's collections and two more for the iconic "Waterfall House" (Frank Lloyd Wright), example par excellence of this rationalist Modern architecture. Austral group's proposal turned out to be another perfect example of avant-garde design and would soon become part of its history.
As usual in Domènec's processes, with this installation the artist examines the iconic design from a new point of view. The two BKF chairs appear without their coating, the piece of leather that covers them and making us possible to sit on them. Its original function is thus nullified and now the structures are ready for being used in different ways. One of these alternatives of use could be the one we see in the dictator Francisco Franco that appears near the chairs. The dictator uses the naked frames of the chairs to proudly display his hunting trophies: two deer heads whose baroque antlers oppose the soft and synthetic lines of the BKFs' skeletons. Ortega y Gasset said once that hunting, (also called "cynegetics") consist of everything that is done before and after the dead of the animal, being the death a key part in the process. We can find here a certain resemblance with the evolution of modernity, an idealistic project that suffered from constantly harassment until its very crisis. The entire installation causes in its viewers a strange confusion resulting from the clash between and object based on a very specific social ideals (progress, improvement of quality life and the development of an equitable community) versus some conservative, even retrograde standars.
An intervention at the Mies van der Rhoe and Lilly Reich Pavilion, Barcelona 2018
An production of Mies van der Rohe Foundation and MACBA
Barcelona became Spain's economic driver in the nineteenth century with the industrial revolution. In a perfect symbiosis of public and private interests, the authorities and the industrialists designed a series of events to internationally disseminate the image of Barcelona as a business city: the Universal Exhibition of 1888 and the 1929 International Exposition that was conceived as a great propaganda device of the Spanish monarchy and to project the image of Catalan industry abroad.
The 1929 Exposition venue, built according to Puig i Cadafalch's project, was located in Montjuïc and represented a radical transformation of an important part of the mountain.
The industrial and commercial expansion, the transformation and growth of the city and the construction of the buildings of the Exposition needed enormous cheap labour, and the local proletariat was not sufficient to meet demand. This caused a great migration process. Due to the lack of public housing and to speculation policies, many of the families of immigrants who, fleeing misery, came from all over Spain to Barcelona from the mid-nineteenth century and throughout the twentieth century, were forced to live in very precarious conditions. They lived in self-constructed shacks on the edges of the city forming real neighbourhoods such as the Somorrostro or the Camp de la Bota. In the late fifties, the shanty towns reached their peak with a population of between 70,000 and 100,000 people.
Shacks were built all over Montjuïc, from Poble Sec to the Ponent quarries, from the 1929 International Exposition venue to the castle.
After Spain's Civil War, Franco's dictatorship decided to use some of the 1929 International Exposition venues and facilities to place immigrants.  In the beginning of the fifties, The Palace of the Missions became a centre of "classification of indigents" used to arrest and classify immigrants from all over Spain to be returned to their place of origin. Without having committed any crime and after spending an indefinite period of imprisonment, about 15,000 people were deported in about 230 chartered trains. The City Council contributed to aggravating the situation when it decided to use the Olympic Stadium to "temporarily" house the neighbours from the Somorrostro. They remained there until 1968, abandoned by the administration, along with families from other facilities such as the Pavilion of Belgium.
Thanks to: Ivan Blasi, Delícia Burset, Xavi Camino, Helena Castellà, Anna Cerdà, Teresa Grandas, Jordi Mitjà, Dani Montlleó, Anna Ramos.